LA NOVELA GRÁFICA: UN MANIFIESTO POST-CAMPBELL / THE GRAPHIC NOVEL: A POST-CAMPBELL MANIFESTO
La novela gráfica existe. Está ahí, en las estanterías, orgullosa de pertenecer a un medio de expresión artística  acostumbrado a agachar la cabeza avergonzado ante las disciplinas 'mayores'. Existe, es. Nosotros, los autores, los teóricos, los críticos de cómic, no podemos discutir este punto, ni mucho menos negarlo.
No es una cuestión de preferencias ni de gustos, ni siquiera una cuestión semántica: la novela gráfica es cómic, nunca ha querido ser ninguna otra cosa, pero con ella llega una sensibilidad nueva. Una novedad. Una novella.
Eddie Campbell trazó en su 'Manifiesto de la novela gráfica' las directrices que identifican a un movimiento de naturaleza heterogénea, e inevitablemente partimos de él, aunque le discutiremos. Su declaración tiene un componente humorístico que no contemplaremos, aunque lo agradezcamos.
Esta es nuestra novela gráfica: la que hemos construido nosotros.
Graphic novel exists. It's there, on the shelves, proud of being part of an artistic and expression medium used to hanging its head in shame of "classic" arts. It does exist. We, authors, theoreticians, comic critics, can't discuss this point and even less so deny it. It's not a matter of preferences or likes, not even a semantic matter: graphic novel is comic; it has never pretended to be anything else, but a new sensitivity appears from it. A novelty. A novella. Eddie Campbell drew in its 'Graphic Novel Manifesto' the guidelines that identify a movement of heterogeneous nature, and we unavoidably start from it but won't share all of its principles. Its declaration has a humorous component that we won't consider but will appreciate. This is our graphic novel, the one that we have built by ourselves. 
1.
La novela gráfica es cómic, es un movimiento que nace en los cómics, realizado por  autores de cómics. Es hija de la tradición del cómic, así que no negará a sus mayores. Pero aceptará y le dará una sincera bienvenida a cualquier artista que no conozca nada de esta tradición previa y tenga algo que decir.
The graphic novel is comic, is a movement arisen from comics, done by comic authors. It's the comic tradition descendant, so it won't disown its elders. But it will accept and will sincerely welcome any artist who doesn't know anything about this previous tradition and wants to say something about it. 
2.
Ahora bien, el novelista gráfico podrá renunciar a mirar atrás cuando así lo desee, es más, tendrá que hacerlo irremediablemente. En otras ocasiones, por el contrario, podrá mirar muy atrás para tomar impulso hacia delante.
However, we the graphic novelists could resign from looking back whenever we wish to, in fact; we will have to do it inevitably. On the other hand, we could sometimes look back in depth to get up to speed forwards. 
3.
Las dudas sobre los formatos deben quedar definitivamente despejadas. Ya no hay lugar para hablar del número de páginas o la dureza de las tapas del volumen. Se acabó la discusión: la novela gráfica tendrá la forma que el novelista gráfico desee. El autor de cómic no estará limitado por ningún número de páginas, ni por dimensiones, formatos estándares, blanco y negro, bitonos o color. Podrá elegir lo que quiera según le convenga en cada cómic. Podrá hacer 500,1000, 50, 20 o 3 páginas, si es lo que necesita para su cómic.
Doubts about formats should be definitely cleared up. There is no place to talk about number of pages or hardness of covers anymore. The discussion is over: graphic novel format will depend on how graphic novelists want it to be.  Comic authors won't be limited by any number of pages, dimensions, standard formats, black and white, bitones or colours. We'll be able to choose according to our necessities in every single comic. We could do 500,1000, 50, 20 or 20 pages if this is what we need for our comic.
4.
El novelista gráfico podrá dibujar lo que quiera y como quiera. La calidad de su trabajo será  resultante del esfuerzo que vuelque en su obra y nada más. Los conceptos tradicionales del buen dibujo serán, por fin, enterrados. Si por el contrario el autor quiere dibujar bien porque es lo que su obra necesita, lo hará como el mejor de los 'grandes maestros clásicos'. Nadie le dirá cómo debe dibujar, para algo el que dibuja es él. 
Graphic novelists could draw whatever and however we please. The quality of a work will be the result of the effort we have put into it and that's it.  Traditional concepts of a good drawing will be, finally, buried. If, on the contrary, we want to draw well because that's what our work needs, we'll do it like the best of 'classic masters'. Nobody will tell us how to draw if we are the artists. 
5.
Si el novelista gráfico decide publicar su obra en la red, nadie podrá enjuiciar su decisión. Si después la quiere publicar en formato impreso, nadie se lo reprochará.
If graphic novelists decide to publish their work on the web, nobody could judge their decision. If, after that, they want to publish it as a printed version nobody could have nothing to reproach them for.
6.
El novelista gráfico podrá realizar una obra de género si ése es su deseo. Si le conviene, podrá usar géneros previos para seguirlos o reinterpretarlos a su antojo. Si por el contrario no quiere usar el vehículo de género, lo evitará por completo para hacer una obra no encasillable en género alguno. Si lo que quiere es no contar una historia, podrá hacerlo igualmente; el cómic no se debe al relato ni está supeditado a él. Al novelista gráfico le puede interesar la memoria o la autobiografía para su obra, pero no tiene por qué ser así y podrá evitarla por completo si es lo que desea. La realidad es una materia narrativa importante para los nuevos cómics que hacemos y los que están por venir, pero el autor podrá usar esa realidad a su antojo. Si le interesa hacer una biografía, un documental o un reportaje periodístico en cómic, lo hará. Si lo que desea por el contrario es reinventar esa realidad o desentenderse de ella en una obra fantástica, absurda, satírica o humorística, lo hará igualmente. La novela gráfica no estará constreñida por 'temas característicos'. Cualquier tema es susceptible de convertirse en una Obra Maestra. 
Graphic novelists could do work genres if that's their wish. If necessary, they could use previous genres as a guide or just to reinterpret them their own way. If, on the contrary, they don't want to use genres, they will avoid them so as to do a non categorising genre. If telling a story is not their aim, that will be also ok; comics don't have a duty to stories or are subjugated by them.  Graphic novelists can be interested in memoirs or biographies for their work, but it doesn't have to be this way and they could avoid them if that's what they wish. Reality is an important narrative material for the new comics we do and those that are about to come, but the authors could use that reality their own way. If they are interested in doing a biography, documentary or a journalistic article for a comic, they will just do it.  If, on the contrary, they want to reinvent that reality or don't take an interest in it drawing a fantasy, absurd, satirical or humorous work, they will also do it. Graphic novel won't be limited by characteristic topics. There will always be room for a topic to become a Masterpiece.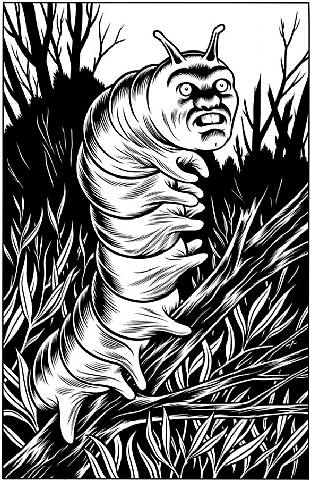 7.
El novelista gráfico podrá ejercer su derecho a hablar de su obra en los términos que él prefiera. Si la quiere llamar novela gráfica porque así le entienden mejor, lo hará. Si la quiere llamar 'mi tebeo', 'mi cómic', 'mi historieta' o 'mi mierda', lo hará. No se acomplejará por los nombres que se pongan a sus nuevos cómics, ni los de ahora ni los que están por venir. Al fin y al cabo, el 'cómic' nunca ha tenido un nombre oficial sino cambiante: siempre ha sido un arte sin nombre.
Graphic novelists could exercise their right to talk about their work in terms that they deem appropriate. If they want to call it graphic novel just because that's how they better understand it, they'll do it. If they want to call it 'my comic', 'my cartoon' or 'my shit', they will do it. They won't get a complex about how their new comics are named, neither actual names nor those that are about to come. After all, comics have never had official names but changeable: they've always been an unnamed art.
8.
El origen nacional del artista no obstaculizará su determinación. Las discusiones polisémicas (cómic, tebeo, manga, fumetti, quadrinhos, bande dessinée) se zanjan en este momento. Todos sabemos a lo que nos referimos cuando hablamos de lo que hablamos, nos basta un guiño o un codazo para saberlo. No serán necesarias las definiciones normativas sobre el cómic: un verdadero arte escapa a toda definición. El lenguaje del cómic de hoy no se parecerá al cómic de mañana porque el autor lo estará innovando constantemente. Lo que hoy se pretenda definir no servirá para el cómic de pasado mañana. 
Artists national origin won't hinder their determination. Polysemous discussions (comic, tebeo, manga, fumetti, quadrinhos,  bande dessinée) are resolved from this moment on. All of us know what we refer to when talking about what we talk, winking or nudging is enough to know it. Normative definitions about comic won't be necessary: real art escapes any definition.  Today's comic language won't be similar to tomorrow's because authors will be constantly innovating on it. What is tried to be defined today won't be suitable for the day after tomorrow's comic.
9.
En esencia, el alma del movimiento de la novela gráfica es su intención. El novelista gráfico aspirará a lo máximo, a explicar el mundo, a hacer una pequeña muesca en la rueda de su tiempo, a ser un artista completo y orgulloso. Con libertad completa. 'Orgullo' es el verdadero lema del movimiento. 'Orgullo' por ser quiénes somos: artistas, dibujantes y escritores de cómic.
In essence, the soul of the graphic novel movement is its intention. Graphic novelists will aspire to reach the top, to explain the world, to make a notch in the wheel of time, to be a complete and proud artist. With full freedom. 'Pride' is the real motto of movement. 'Pride' in who we are: artists, cartoonists and comic writers.